Summer is approaching fast and we all are busy readying our scarfs and umbrellas, buying creams and lotions with increased SPFs, taking out our midies and sleevelesses, and what not to stay cool. This summer also switch over the coolness for your lunch and dinner. Check out this easy-peesy summer salad recipe with is also damn tasty and yummy. It is also cool to carry in the lunch-box.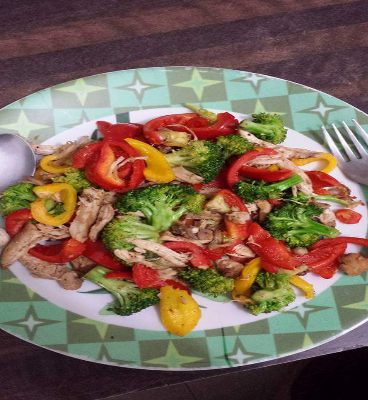 Chicken-bell pepper salad
Ingredients-
Chicken (Only breast pieces)- 250 gm
Red Bell Pepper-1
Yellow Bell Pepper-1
Broccoli- 200 gms
Zucchini- 1 medium size
Garlic- 3 cloves
Bay leaves- 3
Peppercorn- 2
Dressing-
Lemon Juice- 1 tbsp
Extra Virgin Olive Oil- 1 tbsp
Honey- 1 tbsp
Ginger juice-1tbsp
Apple cider vinegar- 1tbsp
Salt- 1 tspn
Black pepper powder- 1 tsp
Procedure-
1. Wash and dry the chicken breasts. Place in a saucapan.
2. Drop 3 cloves of garlic, 2 bay leaves, 2 peppercorns and salt.
3. Pour over boiling water. Remember pouring boiling water is essential as it will lock-in chicken juices inside and will prevent it from going thready and dry while in the process of getting boiled.
4. Cover the saucepan and boil the chicken for 10 mins.
5. When done immediately take out the chicken from the broth and allow it to get cool.
6. Then cut it into small biteable pieces.
7. In the meantime, cut the broccoli and zuchini into small biteable pieces and steam them.
8. Allow them to get cool.
9. Cut the bell peppers lengthwise into thin slices.
10. Prepare the dressing by mixing all the ingredients under Dressing.
11. Now in a big bowl, mix all the veggies and chicken and pour over the dressing and toss toss toss.
12. Serve immediately.
13. In case you are packing it for lunch, freeze the veggie-chicken mix well without the dressing.
14. Carry dressing and salad separately and mix and toss just before eating.
Keep watching for more summer salad recipes. Stay cool.